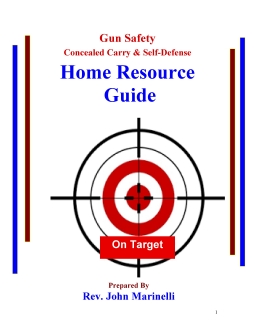 Download
FREE

Buy It Today Or Download It Today


Choose which you want and click "Add To Cart" To Order Books

The Resource Guide is FREE if you download it from this site.
A Spiral Bound edition is available by mail at $10.95 plus $1.75 s/h.
The book is a 89- page document.

Printed Copy Spiral Bound Available For
$10.95 plus $1.75 s/h
(if you are outside the USA email us for S&H costs)
Attention Handgun Owners
If your basic firearm safety class was anything like mine, you listened to a teacher/trainer, took a multiple-choice test, shot a revolver and were given a certificate so you could apply for a concealed carry license. Very little support material came home with you and your memory quickly faded. You were left with more questions than answers. I sought out to learn more and gained added knowledge from the NRA folks. During my journey, I gathered lots of information and organized it into a "Home Resource Guide" that I could refer to over and over again.
I offer this 89 page guide to you so you too can become or continue to be a responsible handgun owner.
Talking Points Include:
Key Florida Laws, Pistol Shooting Tips, Pointers For Men & Women, NRA Insurance, Needed Accessories List, Important Links, Lots of Q & A, N.S.S.F. Safety Tips, Concealed Carry Blunders & Mistakes, Reciprocity Map, Self Defense Laws, Fixing Malfunctions & Jams, Muscle Memory, Target Selection & Sighting, Range Etiquette and Appropriate Apparel, Firearm Cleaning, Glossary of Terms and lots more.
My "Gun Safety, Concealed Carry & Self-Defense Home Resource Guide" is designed to Introduce, Educate and Refresh new and seasoned handgun owners in the Florida Concealed Weapon Laws, Firearm Safety, Shooting Etiquette, and Terminology.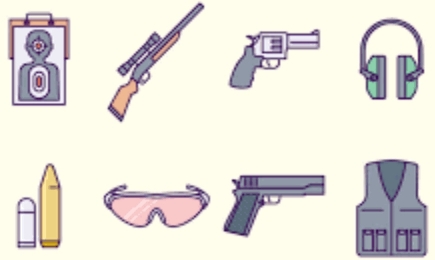 We are pleased to be able to offer the below podcasts on Gun Safety, Concealed Carry & Self Defense. Just click on the one you want to listen to. They are all about 12-15 minutes in length. Right click and select "Save Target As" to save to your computer.